"I am proud to present a line of custom cues, hand crafted from the most elegant natural woods available. These cues are built to last, giving you great performance every time." Scott Zachow
Scott has been building pool cues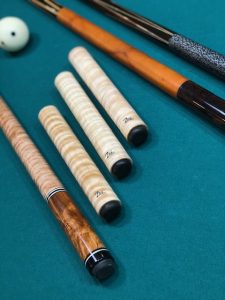 since 1995 in his shop located just outside of Port Alberni, on Sproat Lake, British Columbia. He has honed his skill to create some of the most incredible custom pool cues and cue designs on the market. Originally serving only the local market on Vancouver Island, his cues have found their way into player's hands throughout Canada, the United States, and Asia. A strong supporter of amateur pool, Scott enjoys playing in as many regional tournaments as his schedule allows.
Zac Cues takes great pride in the fact that all of these cues are truly hand crafted. No CNC milling machines or CNC lathes are used in the construction of these "functional works of art". Zac Cues are never mass-produced, they are meticulously created one cue at a time…with the patience and dedication of a true master cue-maker. For authenticity, each cue is signed and numbered by Scott. Great pains are taken to fabricate each master piece, but only cues that perform to Scott's high standards, earn the Zac Cues label. He believes that the most important aspect of a cue is how it feels, and Scott expends immense effort to ensure that every one has just the right 'hit'. Any cue that falls short plays its final stroke into the fireplace where it contributes to heating the house.
Dreaming about cue design since he picked up his first cue at age 16, Scott studied the work of the industry's living legends before purchasing his first lathe in 1995. Since then, a new 1300 square foot shop has been built which includes six lathes, milling machine, pantograph, a ventilated spray booth and many more specialized tools designed and built by Scott himself. The craftsmanship and clinical construction techniques applied to every cue has been honed after years of real world experience …. and playing the game.